byMukash Kaldarov via web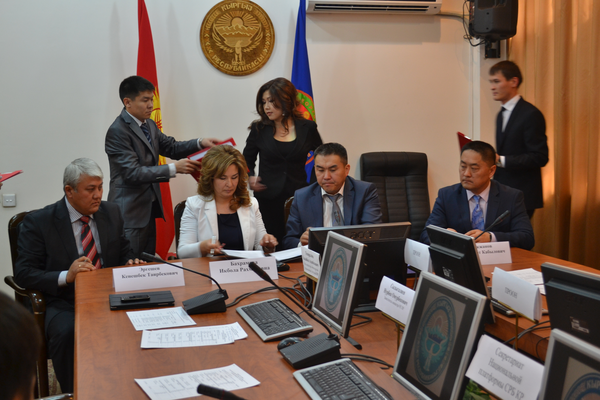 Following to Hyogo Framework for Action (HFA) and through the support of UNDP in Kyrgyzstan, the Ministry of Emergency of Situations of the Kyrgyz Republic (MES) promulgated the establishment of the National DRR Platform in the country during the 3rd Global DRR Platform held in Geneva, May 2011. Afterwards, the Secretariat of the National DRR Platform was established in 2011 to support the National DRR Platform to bring together the development efforts of all stakeholders towards common development goals of the National DRR Strategy until 2020 developed in compliance with priorities of HFA. UNDP's support continued in 2013 and facilitated that Alliances of NGOs were created in Osh and Jalal-Abad provinces by the Secretariat of the National DRR Platform in order to extend the National Platform to sub-national level, institute the mechanisms of vertical and horizontal coordination and increase "public-private" partnership by bringing civic and volunteers' engagement into the National DRR Platform. This process was further culminated on May 2, 2013, during the official ceremony of signing of tripartite Memorandum of Understanding among MES, Secretariat of the National DRR Platform and Alliances of NGOs, which serves as a legal base of such partnership and open for further joining by other partners. The event was attended by the representatives of Disaster Reduction Team for Europe and CIS of BCPR (Bureau for Crisis Prevention and Recovery, UNDP NY) Mr. Armen Grigoryan, UNICEF, GIZ, World Bank, JICA, OCHA and others. In general, the profiles of member-NGOs included into the Alliances of NGOs are universal, which creates possibility to be engaged into the development processes across sectors and/or dimensions (e.g. conflicts, governance, poverty reduction, environment etc.).
According to States-Secretary (equals to the position of Deputy Minister), MOU advocates long-term and sustainable partnership arrangements among stakeholders. Creation of Alliances of NGOs and further signing of MOU were implemented within the framework of UNDP "Disaster Risk Management" Programme, financially and technically supported by BCPR and "Delivering As One" project on "Vulnerability reduction of local communities through strengthening volunteerism and civic engagement in disaster risk management".